Meet Dr. Bethany Bowman
A "Body Mechanic"
Dr. Bowman has always been interested in how things work. She has also always had a spot in her heart that loves to help people and animals. So, it made sense that becoming a human and animal chiropractor – a mechanic for bodies – was the perfect fit for her!
Dr. Bowman enjoys being a chiropractor and opening the doors to health and happiness for her patients.
Dr. Bowman prides herself on offering chiropractic techniques that enable her to gently adjust people, allowing them increased function and the ability to live free of pain. She also shows her patients how to use their bodies better to maintain the adjustments.
Her favorite part of the day is hearing from a patient or animal owner about how much she has helped.
Dr. Bowman's Chiropractic Journey
Dr. Bowman was born and raised in Ellsworth, Maine. She completed her undergraduate studies at UMass-Amherst, then spent four years at the University of Bridgeport College of Chiropractic (UBCC). The highlight of her time there was learning all of the anatomy and physiology. "I loved seeing how it all worked," Dr. Bowman recalls.
Though enjoying her time studying in Bridgeport, Dr. Bowman's heart never left the Pioneer Valley. After graduating in 2007, Dr. Bowman moved back to Belchertown.
Caring for Horses, Dogs and People
During Dr. Bowman's last semester at UBCC, she attended a course to learn how to adjust horses and dogs and became certified by the International Veterinary Chiropractic Association (IVCA). When Dr. Bowman returned to Belchertown she began a chiropractic practice for dogs and horses called Equine K9 Chiropractic.
In spring 2015 Dr. Bowman opened a practice for family wellness, Swift River Chiropractic. Throughout her years of working with animals, Dr. Bowman has also been an associate at other chiropractic practices. With years of experience and a desire to help the families of her community Dr. Bowman is excited to watch her practice grow and positively impact Belchertown.
Getting to Know Dr. Bowman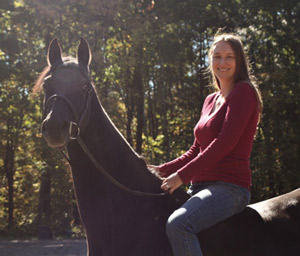 Outside of her practice Dr. Bowman enjoys hiking and being outside in nature. She also has a six-year-old horse that she cares for named Isobel.
Dr. Bowman enjoys caring for her patients and is ready to help you and your family live healthier lives.
Give us a call to schedule an appointment with Dr. Bowman and come get to know her for yourself! We look forward to meeting you!